So, my mom's birthday was almost a month ago.  I originally gifted her this bag in pieces in a ziplock bag, which she was not surprised at all about:  this has been a demi tradition of mine.  Sometimes DIY doesn't go as fast as you hope it will.
But, I finally finished it a couple of weeks ago!  It's the Blue Calla Patterns Iris Convertible Shoulder Bag:
I've also submitted it to Pattern Review's Handbag contest, and voting begins today.  If you like my bag, I would really appreciate your vote!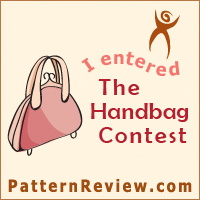 If you recall, this is my second Blue Calla pattern; first was the Snowdrop.  And it shall not be my last!
 This pattern went together pretty smoothly; the only thing that didn't quite line up was the pleats of the lower main body with the lower edge of the U-shaped upper main body piece.  The upper piece overlapped by a good 3/8″ or so on each side, even though I exactly followed the pleat lines.  UGH.
The other thing that I haven't been too excited about with these patterns is that cut list that comes with the pattern is pattern piece based.  With garment patterns, there's a general suggested layout and you see which pieces must be cut from each fabric type (main fabric, lining, interfacing, etc.).
With this it's just "main body:  cut x main, cut x interfacing" for each pattern piece.  It gets really laborious looking through all of these lists when you just want to get everything cut at once from each material.  That said, I recently discovered that there ARE cut lists by material type in the files section in Blue Calla's Facebook group.  Too bad they aren't also included with all of the pattern PDFs!
Also worth noting, though it doesn't bother me so much, that there are only pattern pieces for shaped bits of the bag; anything that's a rectangle is cut by measurement.
With all of that said, any bits of frustration are worth it:  I'll keep coming back because the end results are really spectacular.  Celine, the heart of Blue Calla, really knows how to design attractive bags.
Anywho, more details…fabric!  For the main body, I used a faux suede home dec fabric I picked up many a moon ago:  maybe from JoAnn?  The contrast is a brown vinyl from fabric.com, and the lining is a pretty quilting cotton that my cousin A gave to me.  :)  It may look familiar because used it for her baby girl's baby booties as well.
Speaking of lining, I really like how there are a nice amount of pockets in this thing.  There's a slip pocket with 3 sections, a zippered welt pocket, and a patch pocket with magnetic closure on the front.
This bag is not super hardware intensive, but there are bits here and there to add to a more professional look.  It has a large magnetic closure for the main part of the bag, small magnetic closure for the pocket, 2 small D rings for the long strap, swivel hooks and slide for the optional shoulder strap, and O rings for the straps.  I also bought matching Chicago screws (basically rivets) but was too chicken to try them out on the handles of the bag.
Like my Minoru, I used the 3x stitch on my machine to create a heavier topstitching look with regular thread.  I am not completely avoiding all topstitching thread, but I've gotten considerably shyer since my horrible experiences with the uber heavy Gutermann thread.  Coats & Clark all the way, I guess.
Anywho, thar she be!  A bag for my mama; here's hoping she likes it.  :)