Thanks for your kind words on my quilt!  :D  I am so happy to have it done and really appreciate it.  Would also be so appreciative for your vote at PR for the contest!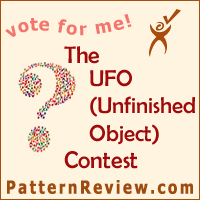 And yeah, you read that post title right.  I have so many sewing plans for February that they need to be split into TWO MOFOING BLOG POSTS.  Now that's a spicy meatball!
Why so many sewing plans?  I get to attend a UFO retreat with my sister in law J (thanks for watching the pumpkin, sweet Mr. 5!) next week!  J manages a quilt shop in central Wisconsin and they're hosting an awesome retreat for folks to finish up their unfinished pretties!  And I got invited!  Squee!
That said, I currently have no unfinished pretties (Huzzah!).  Since finishing my quilt, I have been cutting patterns and fabric in preparation for an ENTIRE LONG WEEKEND of sewing.  To say I'm stoked is an understatement.