Thanks for your kind words on my quilt!  :D  I am so happy to have it done and really appreciate it.  Would also be so appreciative for your vote at PR for the contest!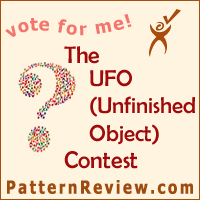 And yeah, you read that post title right.  I have so many sewing plans for February that they need to be split into TWO MOFOING BLOG POSTS.  Now that's a spicy meatball!
Why so many sewing plans?  I get to attend a UFO retreat with my sister in law J (thanks for watching the pumpkin, sweet Mr. 5!) next week!  J manages a quilt shop in central Wisconsin and they're hosting an awesome retreat for folks to finish up their unfinished pretties!  And I got invited!  Squee!
That said, I currently have no unfinished pretties (Huzzah!).  Since finishing my quilt, I have been cutting patterns and fabric in preparation for an ENTIRE LONG WEEKEND of sewing.  To say I'm stoked is an understatement.
SOFA KING EXCITED.
I started creating a list of possible makes in January, and after adding and culling and combing through my patterns and fabric, I have come up with a total of 35 projects.
UH HUH.  THIRTY FIVE.
They aren't all garments; some are accessories and utilitarian home projects that I've been putting off.  Others are surprises (I won't talk about these until after they've been gifted, or maybe not at all, with the way I've been blogging the last year or so…haha!) and one is up in the air, and may be replaced or pulled (probably the latter; 35 projects y'know) from the plans if I can't find a suitable fabric in the next week or so.
As such, I have my handy dandy retreat reference list (where the projects are color coded by their need of a serger, sewing machine or coverstitch or any combination thereof:  such a geek!) organized by the following:  Me, Cheeks, Miscellaneous
I'll start off by sharing what I plan to make for myself.  I don't have a specific "order" that I plan to make these in (other than grouping projects that use the same machines for construction), so here they are in order of perceived complexity from easy peasy to way involved.  If the fabric is still available, I've linked to it:
No line drawing included because these puppies are dead simple:  one piece leg and a waistband.  I've made a pair or two that I haven't blogged, but I think the fabric I got this time is going to work out so much better (more stretch, better recovery).  In case you didn't know, you can get this pattern for free (FREE!) if you join P4P's Facebook group.
Fabric:  I'll be making two pairs of these from some double brushed poly spandex I picked up from Fabric.com (AKA what those famous buttery soft leggings everyone is going on about are made of)
Milana Grunge Blue Double Brushed Poly Spandex Jersey
Teal Double Brushed Poly Spandex Jersey
I got this one at Pattern Review Weekend from Emilie of Jalie herself!  Thought it was high time to actually use it.  Definitely going with the long sleeved version for the rest of Winter and Spring.  I'm pondering lengthening it a bit so I can wear it with leggings, but will probably leave it as is.
Fabric:  I'm going to use this pretty tie-dyed rayon/cotton(/maybespandex?) jersey I picked up at Girl Charlee.  I had originally intended for it to become a maxi skirt, but it's way too sheer and I don't want to line it or wear a slip ('cause:  Summer's hot enough), and I have no problem wearing a cami under a shirt.
Gray Purple Gradient Tie Dye Cotton Jersey Blend
I've made this one a couple of times, but also have never blogged it:  once as the racerback version as part of my honeymoon capsule wardrobe, and the raglan tunic for a friend.  It's really a great pattern and I can't wait to make the raglan tunic for myself.
Fabric:  I had planned to use this awesome rayon/spandex jersey pre-cut from Fabric Mart for the the sweet Simplicity below, but that dress is a yardage hog and I didn't have enough black jersey for the rest of the dress (WHAT?  I buy so many black and gray knits!).  And so, it will become a practical tunic that I will wear on a daily basis.  Sounds good to me.
I have been eyeing this Katherine Tilton pattern for SO LONG.  I looked for it at every JoAnn sale, but my store only had the bigger size range in stock for months!  I ended up joining club BMV and finally got my hands on it.  Is it weird that I'm gravitating toward the Tilton sisters now?!
Fabric:  I'm kind of really excited about this one…it's going to be so damn cute.  Fabrics from top to bottom:  gray poly/rayon/spandex pre-cut from Fabric Mart, teal poly brushed spandex (same as the Peg Legs!) from Fabric.com, sweet ass sparrow fabric (same problem as the last cut I mentioned:  wanted to make a dress out of it, but SO SHEER.  Sigh, Girl Charlee) for the bottom.
Dark Charcoal Poly/Rayon/Lycra Jersey Pre-Cut
Teal Double Brushed Poly Spandex Jersey
Girl Charlee Sparrow Jersey
Jalie 3348: Drop pocket cardigan
This one doesn't have a line drawing, or I would include it.  I've made this once before, but it had a little symmetry issue.  Oops.  I really love it as a pattern, though, and the construction is ingenious, so…  Can you tell I love Jalie?  Oh Jalie, you rock my socks…
Fabric:  Long ago sold out cornflower blue wool/spandex jersey from Fabric Mart.  It's a bit sheer, but that's totally fine for this cardi.
I've actually used this pattern twice before, and once this one is done I hope to do a blog post on all three.  This is a really versatile topper that is pretty enough to go with a dress, but also would work with almost any other outfit.  There's a long faux wrap version and a cropped wrap version, and I'll be making the latter.
Fabric:  Luscious honeycomb patterned gray wool (maybe also a bit o' spandex in there?) knit from Fabric Mart.  Long ago sold out, but oh so pleasing to the eye.
It's one of my goals for 2017 to make woven pants.  I realize that these are knit pants, but I am treating them as my confidence building gateway to the woven pants goal.  Plus, I've had them in my stash forever and how cool are those style lines?  I also totally ordered a center guide foot for my Coverpro and am crossing my fingers it gets delivered (from the UK!) before the retreat.  Now to look in my fitting books for how to adjust for ma booty…
Fabric:  Really lovely and weighty black rayon/nylon/spandex from Fabric Mart with good recovery and 2 way stretch.  Mmm…  No pic because you know what black fabric looks like, mmkay?  The fabric itself is still miraculously available here.
My robe is over 5 years old and looks like hell, but I mostly settled on this project because of fabric inspiration…
Fabric:  Ice blue furry fleece!  It's the same fabric that I used for Cheeks' robe, and it's sooooo soft.  It's such a bitch to cut and a bit annoying to sew, but the supreme cuddly softness outranks the annoyances.  This is also still available on the site as I write this, but only a few yards are left…
This is just one of those fun things I've been drooling over…not sure where I'll wear it, but how LOVELY is this silhouette?  I am definitely planning to raise the neckline an inch or two and am not sure how it will look with my mama belly, but I just had to add it to my plans.
Fabric:  So, I had planned to use the black birdy fabric that will now be Jalie 3245 as the contrast, but now I'm not sure what I'll use for this.  It's quite the fabric hog, taking over 4 yards!  I think I'll just leave the fabric selection on this one a surprise.  ;)
I've been meaning to make this one since it came out…I bought the pattern right away, and even cut it all out!  And then I lost ambition and back into the pattern envelope it went.  It's just that slight bit of unusual that really floats my boat.
Fabric:  gray/navy striped rayon/spandex pre-cut from Fabric Mart.  I'm planning to really play with the stripe to make this dress special, but am also considering doing some navy color blocking to break things up.  We'll see what happens!
Heathered Gray/Navy Striped Rayon/Lycra Jersey Pre-Cut
Uh, yeah.  After all of that, I still have a MOFOING COAT on my list.  Why?  Because I've been *meaning* to make this bad boy for something like 4 or 5 years and it's time for me to JUST DO IT.
Fabric:  Robert Kaufman Modern Canvas in Mulberry.  It's no longer available, but I bought it from the big Craftsy sale back in November (December?) for a song and it turned out a tad brighter than shown on my monitor (but is a pretty similar to this photo I found elsewhere), but I'm still going to use it!  Still undecided on lining fabric, but will do my best to find something from stash.
So, that's everything I have on the docket for myself!  It's perhaps a tad ambitious, but whatever I don't finish I can just take on home with me. What's even maybe more ambitious (or perhaps stupid and risky?) is I plan to only bring PJs, undergarments/socks, a sweatshirt, one pair of leggings and a cami or two with me to this retreat…and will sew one day what I am going to wear the next.
I also have quite a few things in store for Cheeks and random home and gift projects (AKA the Miscellaneous category) that I will share in a few days!