So, it may be February, but I'm so proud to say that I indeed have finished my long languishing Christmas Quilt!
It took me four years, two months and two weeks to complete.  You can see its beginnings here and here, and my updates from the last month here and here.
Why so long?  I don't even know if I addressed that previously.  If I did, oh well, here it is again:  the quilt block was just so boring to sew. Plus, there were 99 of them. Yes, one short of 100!  Holy jeepers.
A good suggestion I received was to make fewer blocks and just use sashing (borders?) in between them. It was tempting, but I really wanted all 14 of my fabrics to be represented as both the star and as the background.
There should technically only one repeat (since 7x7x2 = 98, there is one purposely repeated block to get to 99), but as I set my blocks out, I realized I had sewn one combination incorrectly, so there are two instead. It was a bit of a logistical bummer at first, but today I couldn't tell you offhand which ones are the repeats, so I guess I don't care about it that much.
The impetus to complete this sucker was the Pattern Review UFO contest, and I'm so glad I went for it!  It was definitely a slog to go from 64 blocks done to completely finished between January 4th and February 1st, as this is my first ever bed sized quilt:  a queen. Just a reminder, here's where I started on January 4th:
*
I'm pretty damn thrilled with how it turned out.  And actually getting it finished in less than a month from where I left off years ago is a feat I was unsure I'd be able to pull off…especially when we lost almost a week to the pukes.  It definitely took almost all of my free time (during naps on the weekend, and after Cheeks' bedtime) but I'm so giddy that it's finally done!
Before this, I had only one other legit (but quite small) quilting project under my belt, the crib quilt I made for Cheeks, but it definitely couldn't prepare me for the wrestling and stitching of such a large and heavy item (8.4 pounds!  I weighed it!)  with my home sewing machine.
That said, I didn't do anything fancy:  just stitched in the ditch around each block.  It still felt like quite the feat with all of that bulk.
Like I said, I'm pretty darn happy with how it turned out, but there are some places that aren't smoothed out quite enough (the border, namely; I should have used way more safety pins), but it's not bad enough for me to feel like I need to rip off the binding and re-do. GOOD ENOUGH FOR ME!
That all said, voting for the Pattern Review UFO contest begins today.  I'd be really honored if you'd consider casting a vote my way.  Voting ends February 13th.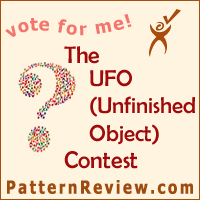 And so, there it is. And now I'm considering what my next quilting project should be, since I figure this one is only appropriate for the bed in December. O. M. G. you guys.  Maybe I'm a masochist?  That said, you can bet your sweet ass I'm gonna take the next one to the long arm quilter.
Save