We've been having quite the weather here the last couple of days.  Rain, rain and more rain…with daytime temperatures hovering around freezing (and dipping below at night).  I've managed to make it in to work every day so far, but I had Midwestern Interesting* parts of my commute each day with slippery stretches of road.  Snow?  Expected here in the Winter.  Ice?  A bit more of a problem.  But, it's been manageable.
Anywho enough about the weather:  just wanted to share updates on some projects and a couple of plans!
My Pattern Review UFO contest entry (in progress review here), the Christmas quilt I started in 2012, is coming along well.  There's still a chance I could get it done by the February 4th deadline.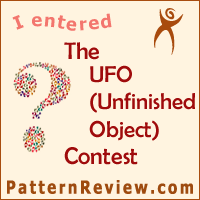 At the start on January 4th, I still had 35 quilt blocks to construct.
And here's my progress as of January 16th (Monday).
With a slight IG filter…
I have had a few stumbling blocks (heh), though.  I purchased a really lovely Moda quilting cotton to use for the border in 2012 when I started the project, but it is just…too busy, and competes with the blocks.  I worried this was true, and Instagram agreed.
So, I decided to check out JoAnn for an alternative.  I also still needed to buy the quilt backing fabric, so I had two things to look for.  My mistake was leaving the house with only an hour left before they closed (why is the couch so damn comfy?), and I ended up impulse buying this as an new border fabric.
There were still some Christmas fabrics left (woot!), but very few that were primarily white or ivory (boo…) and they were still only 50% off (whut?).  As I was getting this cut (well, measured.  I bought the rest of the bolt…:P) it crept up on me that it might not be quite right.  Alone, I really love it.  So cute!
When I got it home, Mr. 5 said something about there being words on it and that the rest of the quilt didn't have words (though, it does:  just sparingly).  I'm not sure what I think of it next to the rest of the quilt.  Here are both options (at this point) to compare.
Third possibility?  Any white on white calico tonal that reads as a solid.  I started looking online and pulled myself back again, because of the dough I had to shell out for the backing fabric.  I may hit JoAnn again in the next couple of days…  Blah.  I dunno.  I can't believe I'm about to say this, but:  don't wanna do anymore fabric shopping.  *GASP!*
As for the back, I was set on red, but there was no red at all in the extra wide backing fabrics at my JoAnn.  C'mon you guys, laaaame.  That said, I had definitely decided that after piecing together 99 blocks with 17 pieces each, plus 4 (to 8, depending on how I cut them) border strips, I would not be also piecing the back, so no 44″ backing fabrics for this gal.
And so, I set my sights online.  I narrowed it down to these three:
Moda Let it Glow Metallic in Crimson
Fabri-Quilt Cotton Sateen in Red
And then I hemmed and hawed about how I was going to have to spend probably another $50 to finish this quilt.  I finally quit my bitching yesterday and $52 later should have my fabric by the 25th (but hopefully earlier!  Yeesh). Shit, guys.  I can't afford to be a quilter.  Though, actually possibly getting close to finishing this one kind of makes me want to start another…  SOMEBODY STOP ME.
Anywho, guesses on which backing I ordered?
*Translation:  Bad
Save